Products
Wedge wire screen
Wedge wire screen - filtration for oil well and quarry screening

Wedge wire is known as profile wire screen, V- wire screen, and wedge wire screen. It is created by wrapping a V- shaped profile wire cylindrical around longitudinal placed support rods. Each intersection of the profiles wire and support rod is well welded. It has a smooth surface, resistant to clogging and a greater structural strength. Welded wedge wire screen is the most advanced product of modern technology used in many industries for screening, filtration, dewatering, drying and cleaning. The numerous combinations of profile wires and support rods, and the wide range of apertures between the wires and rods allows us to design a screen according your required specification.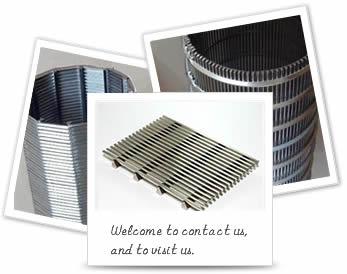 Wedge wire screens are mainly in the following shapes: cylindrical, semi-cylindrical, flat panel, tubes and baskets, conical, arc filters or other more complex shapes. Depending on different design, the filtration direction can be from outside to inside, or from inside to outside. There are another designed screen - supporting rod wires are arranged vertically while the profiled wires spirally wound on the outer surface of the structure support wires.
Wedge wire screen has a number of advantages as below:
Smooth surface, low hydraulic resistance, high filtration accuracy, never clogging;
High mechanical strength, high corrosion resistance, acid-resistant, heat-resistant;
Guaranteed size of the slot tight tolerance to ±0.015mm;
Filtration direction can be outside to inside or inside to outside;
High capacity filter surface, effective backwashing, and long trouble-free life.
Made from V shaped profile wire and welded by an unique welding process, wedge wire screens have great strength, precision and long service life. The features make it attractive solutions for cleaning, filtering, sifting or fractionation, dehydration liquid and granular media. They are widely used in liquid filtration processes in the food, chemical, petrochemical, paper, liquid, gas and solid separation, sizing, dewatering and sifting in oil wells, water wells, waste/process water treatment, quarry screening, mine sifting and other industrial screening.